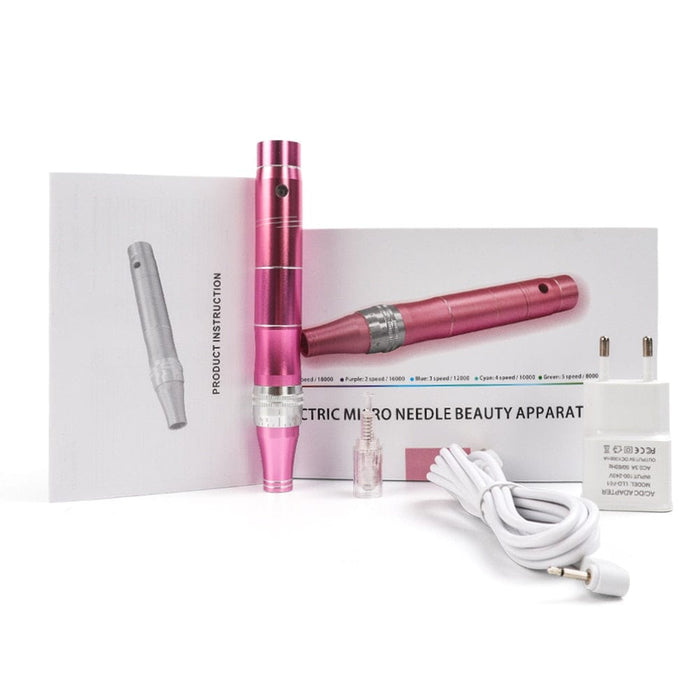 Micro Needles Skin Tightening
Save

$0.00
Save

$-79.99
Original price
$0.00
-
Original price
$0.00
Are you self-conscious of your appearance because of wrinkles, scars, or puffiness? Do you feel like you've tried every anti-aging treatment available without success? Try Micro Needles Skin Tightening. Our professional-grade device can help reduce the appearance of wrinkles, scars, and puffiness, giving you a more youthful appearance.
Unlike conventional skin treatment remedies, you do not have to spend a fortune on the derma pen. It is the least expensive. The sharp needles on the derma pen will create minuscule pores on the uppermost layer of the skin. This in turn will enhance collagen production and will replace dead skin tissues with new skin cells.
One of the greatest advantages of using the derma pen is that you do not have to wait for long to see visible and better results. It is easy to use the derma pen. You just need to follow the instructions on the manual that comes along with the kit of the Derma micro pen.
Function:
Anti-Puffiness.
Scar removal including acne scar removal or treatment.
Acne Scar Removal, Acne Scar Treatment.
Anti Wrinkle Treatment, Anti Aging.
Hair Loss Treatment or Hair Restoration.
Surgical Scar Removal.
Hyper pigmentation treatment.
​​Advantages :
-Visual land noticeable improvement in a few days from the first treatment
-Short healing time
-No permanent damage or injury
-No bruising, infection, discoloration, or other complications
-Extremely high absorption of any active ingredients
-Almost all skin types can be treated
-Thickens the dermis without damaging or removing the epidermis.
​​Package Content:
1 * Machine
1 * power plug
1 * Needles
1 * USB cable
1 * Instruction
Before you use this machine, please do the 3 steps:
1. Check the heads of the needles, if there is a needle bent / twisted/broken, please don't use this anymore because it will create more new scars, you have to throw it into the dustbin and go buy a new one. If you feel 1 or 2 needles pulling your skin when you are derma-rolling your skin, you must stop using it, because there are 1 or 2 bent needles. You will find out the bent needles if you check all the needles carefully.
2. Use saltwater or 75% alcohol to clean it.
3. Wash your face with a facial cleanser before you start derma-rolling your face.