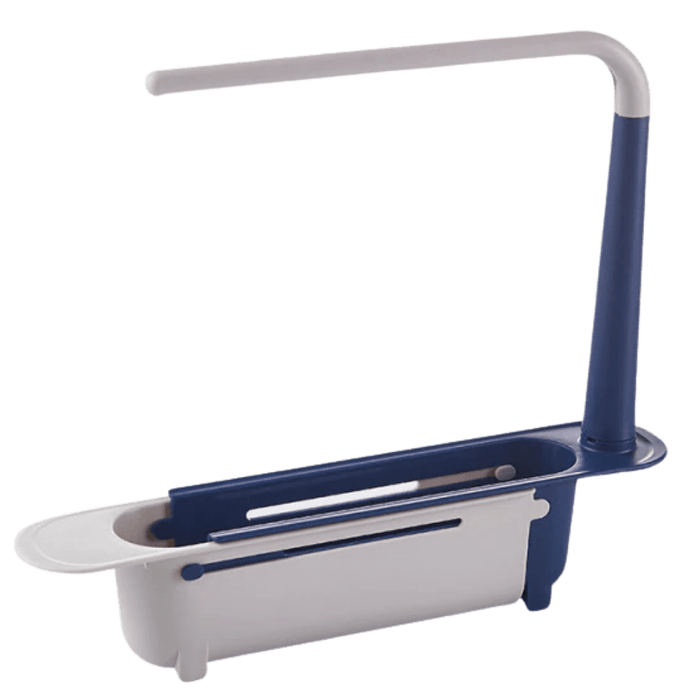 Extendable Kitchen Sink Storage Rack
Save

$0.00
Save

$-14.99
Original price
$0.00
-
Original price
$0.00
Multi-Functional Storage Rack
Finding the perfect container for your kitchen "tools'' is quite a challenging task, isn't it? Many have explored the possibility of using a bowl to house their scrubbing utensils, dishwashing liquid, brushes, and so on. If you've also tried this, you'll be aware of the problem with using a bowl. It retains water too quickly. You certainly don't want your kitchen utensils to be sitting in water all the time. They'll quickly go rusty or moldy.
Now, what if there was a perfect solution to this problem? The solution, of course, is this sink storage rack. This storage rack can help you keep your cleaning equipment dry. How? the drain box is big enough to house your cleaning equipment. Also, the drain holes are regularly spaced and well-ventilated, allowing water to drain out of the bottom safely. This, in turn, ensures your sponges and rags dry entirely.
Includes a Handy Towel Rail
You're probably thinking, "okay, that's good and all. But that still leaves me a storage point short. How do I store my rags and towels?" Again, the answer to this question is this same sink storage rack. You see, this handy storage rack also perfectly doubles as an effective towel rail! The rack's stylish and efficient design allows you to hang and dry towels in a neat and tidy manner. This ensures your towels and damp cloths are adequately dried and ventilated at all times.
There is one feature of this extendable sink rack that makes it a very attractive, essential tool to have. This feature is the rack's adjustable size. Often, people have problems installing tools or devices in various parts of their homes. More often than not, these problems have to do with the size of the installed item. It's either too big or too small. This sink rack, however, is designed to be highly adjustable.

This means that you won't have to face installation problems. This is because this sink storage rack has a scalable design that helps it meet a variety of needs. The rack's size can be easily adjusted by lengthening or shortening the rack. This ensures it perfectly fits your sink size, irrespective of the length. Of course, this handy extendability also means increased or decrease storage capacity, depending on your sink size and preference.