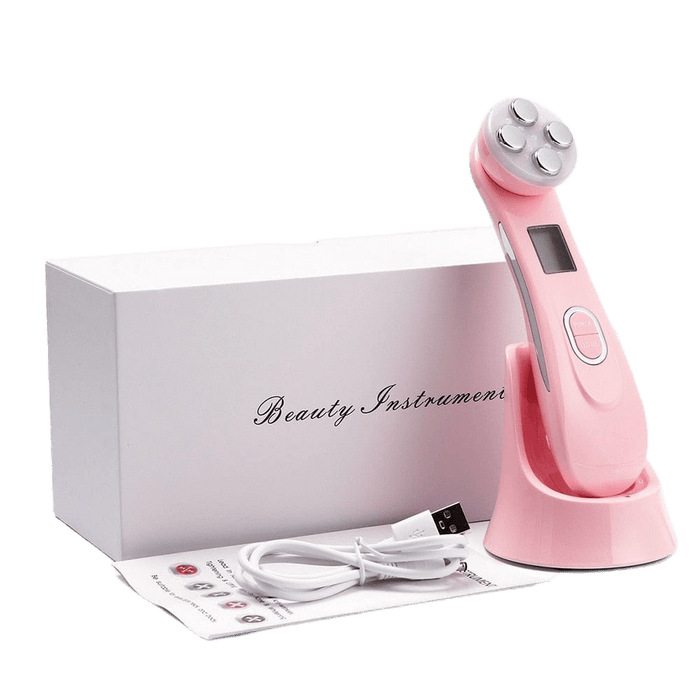 Skin Care Face Massager
Save

$0.00
Save

$-49.95
Original price
$0.00
-
Original price
$0.00
Features:
1. Nonporous mesotherapy: using a special pulse occurred by the double-clicked current , directly lead the skin needs nutrients into the dermal layer of the skin, so you do not have to use surgery, can nourish the skin.
2.Electroporation import: through special current open the gap of the skin cells, making the effective skincare cream ingredients directly into the dermal layer.10 times increase absorption through the skin!
3. RF current: high-frequency electrical resistance heating, effective at improving skin deep relaxation, aging wrinkles, through the current effective promote lymphatic and blood circulation, body shaping and other care.
4. The microwave pulse: using four levels conduction and special pulse
technology, the AC generates microwaves, sparking muscle contraction, Buddha muscle tissue, firm skin, restore elasticity .
5. LED phototherapy: LED phototherapy can effectively repair and healing the micro gaps of the electroporation, needle-free mesotherapy ultra- fine skin, the skin pores and then import the wound period, calming anti-inflammatory effect.
Models Choice and Functions:
Model 1: The 1st time push the LED light selection key, pink lighting.
Wavelength: 700nm(+/- 10nm)
Whitening skin, fit for dark skin complexion.
Model 2: The 2nd time push the LED selection key, pink flashing.
Wavelength: 700nm(+/- 10nm)
Strengthen absorb of the beauty liquid or gel, skin whiter
Model 3: The 3ed time push the LED light selection key, red lighting.
Wavelength: 620nm(+/- 10nm)
Promote collagen regeneration, skin elasticity, fit for wrinkles for relaxation skin.
Model 4: The 4th time push the LED light selection key, yellow lighting.
Wavelength: 590nm(+/- 10nm)
Brightens the complexion, the skin has a clear sense, fit for spots and dull skin people
Model 5: The 5th time push the LED light selection key, blue lighting.
Wavelength: 415nm(+/- 10nm)
Inflammatory sedation, shrink pores suitable for acne or oily skin
Package Including:
1 x machine pen
1 x USB + Charger Base
1 x  English manual