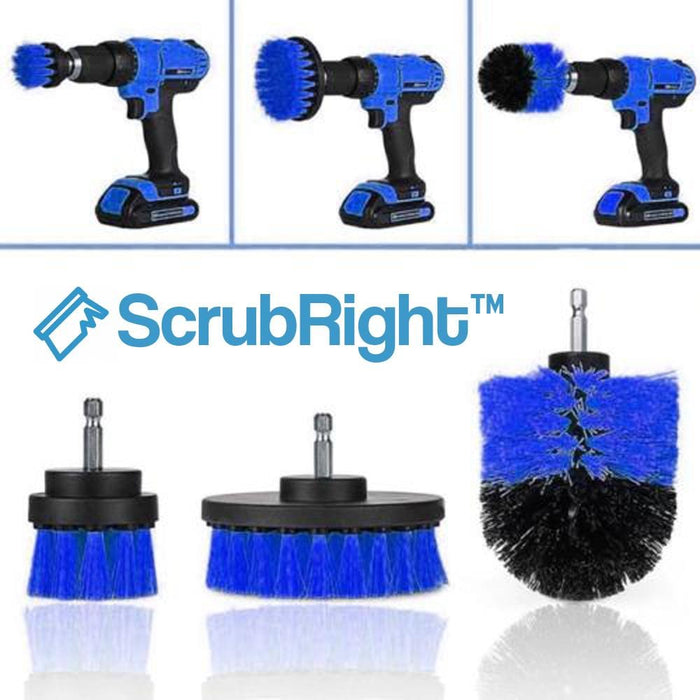 ScrubRight Brush Set
Original price
$22.70
-
Original price
$34.99
If you're tired of scrubbing by hand and getting poor results, this is for you!

Simply attach our ScrubRight brushes to your cordless drill and clean any surface with speed and ease.


"My shower tiles haven't looked this good in a long time. I'm NEVER cleaning my shower by hand again."- Julia

GET A DEEPER CLEAN- Attach our ScrubRight brushes to your cordless drill to create a high-powered cleaning tool just like the professionals use.
REMOVE SCUM AND GRIME- Instantly remove stubborn grime, dirt, mildew, mold, soap scum and hard water stains.
SAFE TIME AND EFFORT- Cut your cleaning time in half and let your drill do the work for you by using our ScrubRight brushes.
PREMIUM QUALITY- Our ScrubRight brushes are made with premium quality nylon bristles and will not scratch. 


✅ Clean those dirty grout lines between tile and marble.

✅ Remove built-up soap scum in tubs & showers.
✅ Get rid of sticky kitchen grease and grime. 

INCLUDES:

1x ScrubRight Flat Brush (4 inches)
1x ScrubRight Bullet Shaped Brush
1x ScrubRight Detail Brush (2 inches)
*does not include drill
FLAT BRUSH- Designed for flat surfaces. Use it on glass shower doors, tiles, stove tops, the bottom of your tub, glass oven doors, car tires, upholstery, and much more.
BULLET SHAPED BRUSH- Ideal for curved spaces like sinks, tight corners, and shelves built into the shower.
DETAIL BRUSH- Perfect for spot cleaning and detailing. Use it on small fixtures like faucets and overflow plates.
FITS ANY DRILL- Our brushes easily attach to any cordless drill.