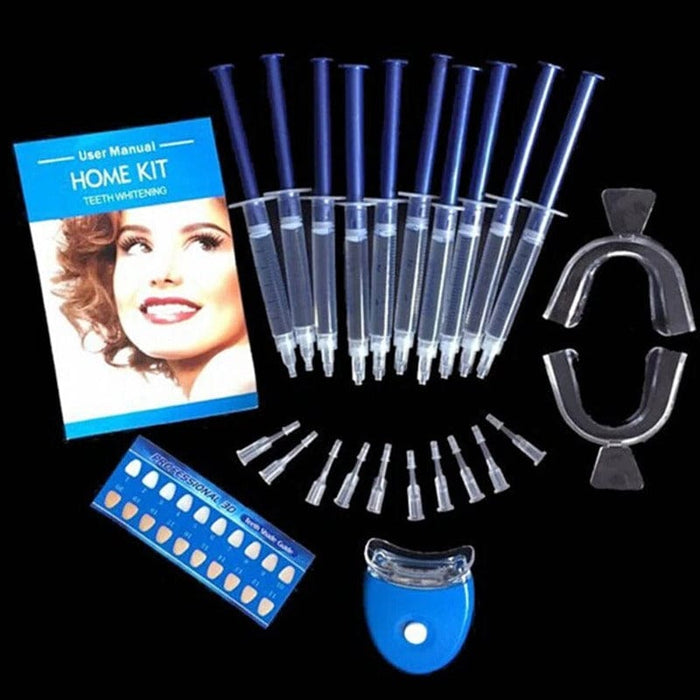 Teeth Whitening Gel Pen Kit
Save

$0.00
Save

$-18.99
Original price
$0.00
-
Original price
$0.00
Thermoplastic mold trays:
1. Bring water to a boil, and remove from heat to 70-80 degrees, and immerse one of the trays for hot water for 10-12 seconds, make sure the trays are soft enough to make molds.
2. Put the mouth tray to mouth, covering the upper teeth.
3. Close your mouth and suck on all air and excess water.
4. From the finger, gently form a tray around the teeth by pressing the top of the mouth on the teeth.
5. Hold this mouth inti 10-15 seconds, and then put it into cold water.
6. Repeat the process for the bottom of the mouth tray.
Trim the trays on the lips to the right height:
1. Use scissors to trim excess plastic.
2. To cut down the trays on the lips in the gum line helps to avoid possible irritation.
3. Fill the trays and whiten teeth.
How to use it:
1, Place a small drop of gel on the trays.
2, Place the top of the mouth trays for the mouth, and adjust it.
3, Put a gentle pressure on the upper mouth of the tray by pressing on the upper lip with your finger.
4, Repeat the lips for the lower tray.
5, (Optional) Turn on the LEDs, and hold it nearby to allow your teeth for the duration of whitening treatment.
The package includes
10 * 3ml teeth whitening gel tips
2 * thermoplastic mouth tray
1 * shade paper
1 * user manual in English
1 * LED white light accelerator