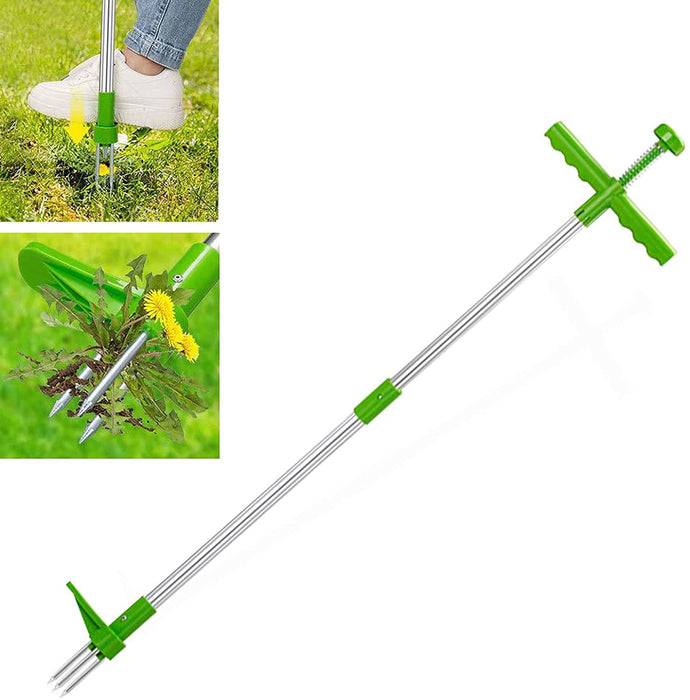 Weed & Root Removal Tool
Original price
$24.96
-
Original price
$24.96
Get Rid of Weeds Without Risking Your Back
Durable Material - Handle and foot pedal of our weed puller tool made of High Strength plastic, The aluminum tube is really thick, Its claws are made of high-strength carbon steel. Standing Plant Root Remover is a completely safe and effective way to remove weeds
Easy to Assemble - The package of the standing weed puller contains installation instructions, according to the picture step by step, you can complete the assembly in a few minutes. Manual assembly is required.
Simple Operation -Insert the steel claw into the center of the weeds ,step on the foot pedal effortlessly with your foot and rotate the handle 180 degrees to pulling weed out. Use the Reinforced springs loaded insides the handle to remove the plant root from the claw. It's that simple to remove weeds permanently!
Ergonomic Design - To weed with this 39-inch long-handled stand up weeder, No need to bend down. The stand up weed puller is a completely safe and effective way to remove weeds without causing pollution, which is a friendly way of weeding.
Multifunction Tool - Why invest in half a dozen different gardening weed pulling tools? Our weed root remover tools make it easy to tackle any type of weed (dandelions, thistles, flowerbeds, and others more), and with just one root removal tool, you'll be able to bring joy to your gardening efforts!